The social media world can be busy, unpredictable, and sometimes even feel like it relies on gut-feel decisions. Yet ironically, the unscripted world of social media requires a lot of planning. And it's splitting at the seams with data – data that can help you craft better content, engage on-the-fly with your audience, and save you time.
While there's loads of data out there, it can be difficult to decide how you'll tap into it while still keeping the lights on as a social media team. On the flip side, even if you already have some data, it can be difficult to get truly meaningful insights from it.
What's a social media team to do?
The truth is, no one should not be using data. The question is simply how to use it. Anyone can get deep insights about their social media presence if they take the right approach. And you can spend just the amount of time that your team has available. Even a small data-driven decision can make a big impact.
I manage the global social media programs at Tableau Software. And here at Tableau, our mission is to help people see and understand their data – so obviously, data's pretty important to us! I'm going to share how our social media team uses data to drive a more effective and engaging content strategy.
Everyone Has Data
Where can you actually get social media data? The first thing to be aware of is that everyone has access to free social media data about their social media presence. I'll repeat that. Everyone can get free social media data, right now!
Facebook Insights, YouTube and Twitter's analytics dashboards, and Google Analytics are all great places to start. Just log into (or set up) your account to get started. You'll see in-platform visualizations, and you can also download the data to work with it more flexibly.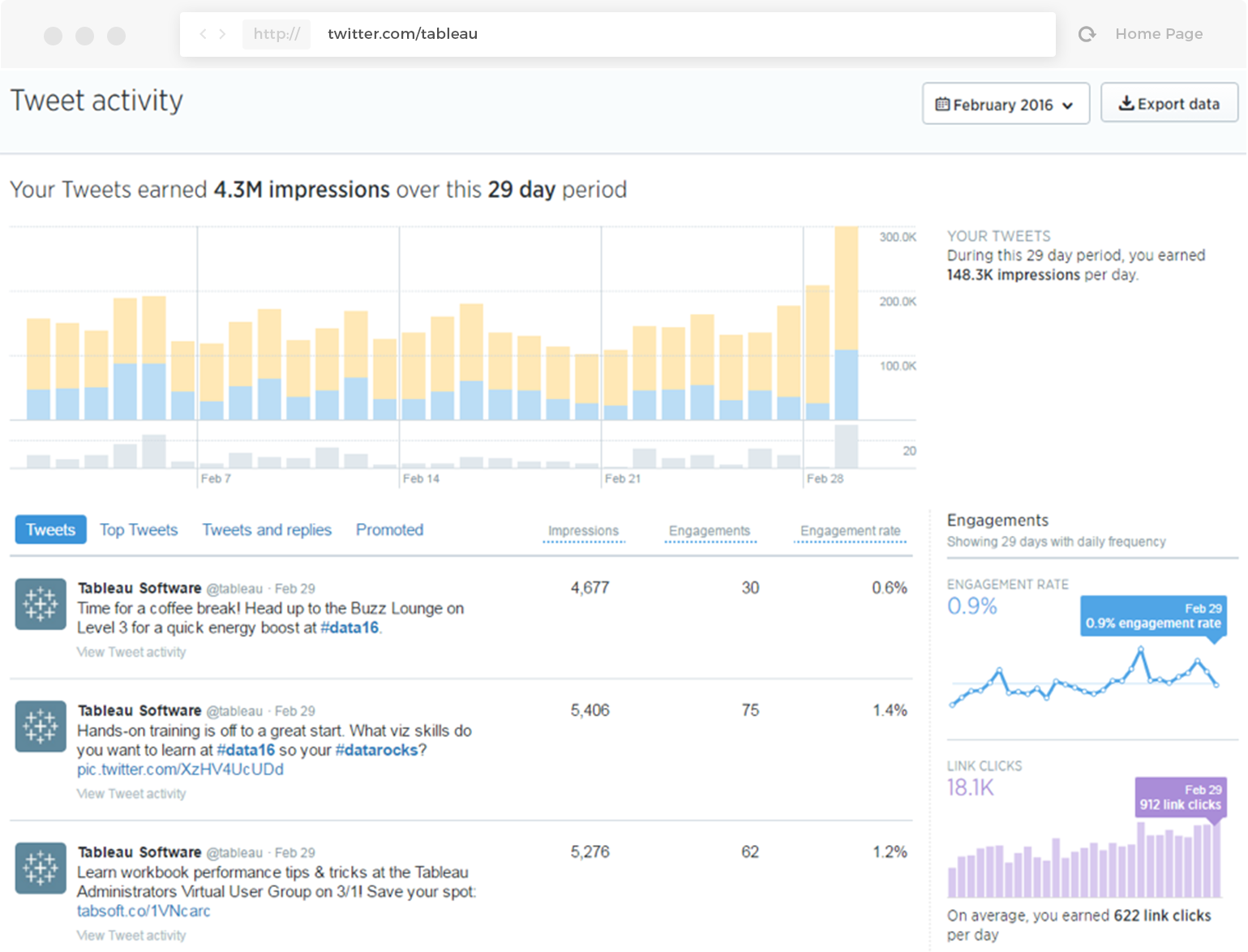 Twitter's activity dashboard is one example of where you can get in-platform data.
But besides the platforms themselves, where can you get social data? Data is available from many third-party platforms, including social media management tools and platforms like EveryoneSocial. Some tools let you stream live data into a database. Or maybe you're a developer! Platforms have APIs, and it's possible to code your own solution.
It all depends on your team's goals, and of course your existing infrastructure and resources. But the key is that everyone has something to start with. Even if you answer just one question with that data, that will be worth your time.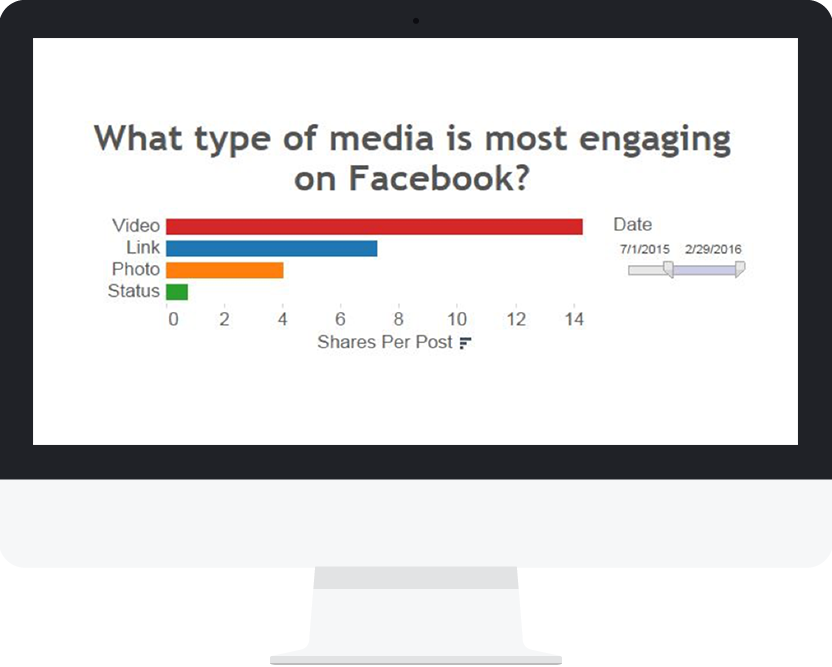 It's common sense that multimedia content will perform better than text-only posts. But how do the different types of multimedia content stack up against each other? By looking at data, we realized that embedded links actually performed better than photos on our Facebook page. They lead to more re-shares – and that's a simple but important insight to have.
Ask the Right Questions
One of the biggest time-killers when it comes to social media analytics is simply asking the wrong questions. Social media data can be used to scout content, to determine the best times to post, or to understand your most popular channels and media. Or it can be used to just count your followers every day.
While I'm not saying that benchmarking's not important, it would be a shame to use your data just for simple benchmarking. Far more is possible, and it doesn't take a lot more time to dig a lot deeper.
Here are some of our favorite simple questions that pack a big punch.
What should we post?
If you manage social media content, then you want to find relevant, timely content that people will instantly want to share. It is essential to track your top content so that you know how to repeat your past success. Every brand should be checking its top posts regularly. It's easy to do this in-platform or with a third-party tool.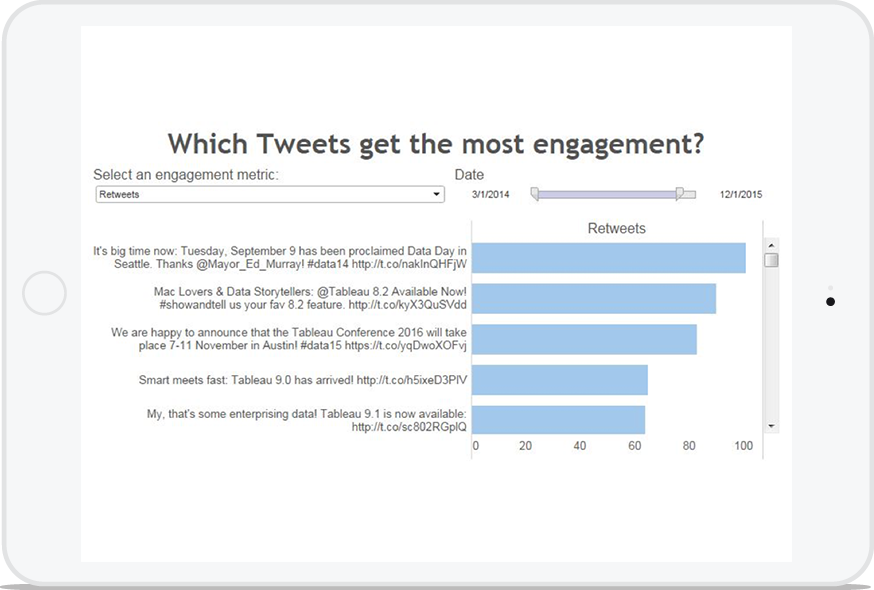 We look at a variety of metrics to determine our most popular content. Retweets are one of our favorites because they indicate potential virality.
You also want to stay ahead of popular trends and external content opportunities. At Tableau, we like to compare our own social activity to other activity in the broader community. For instance, we look at the pages that people are visiting on tableau.com when they come from a social media source – not necessarily our own social content. Doing this, we've often found "viral hits" on our website, which were driving social traffic even though we weren't posting them.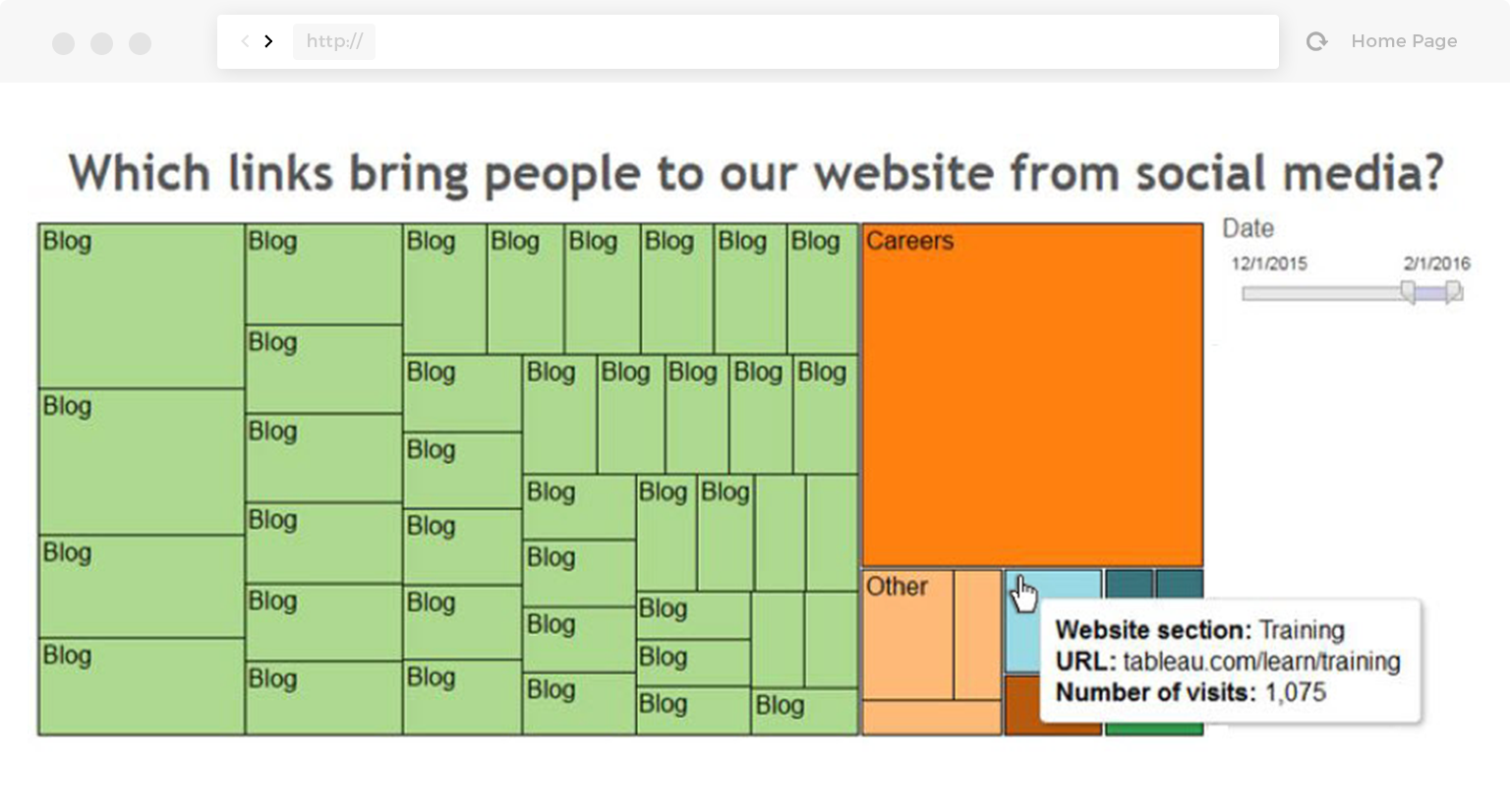 Our blog and careers pages are consistent drivers of social traffic, but we often see other pages become momentarily popular. This indicates that people may be sharing them organically.
When should we post it?
Once you know what to post, it's important to post it at a good time. All major data sources include some insight into when your audience is active. For example, you could track the engagement that your content gets when you send it at a certain time. Or you could analyze when you get the most website referrals from social media, or when people mention you the most on Twitter.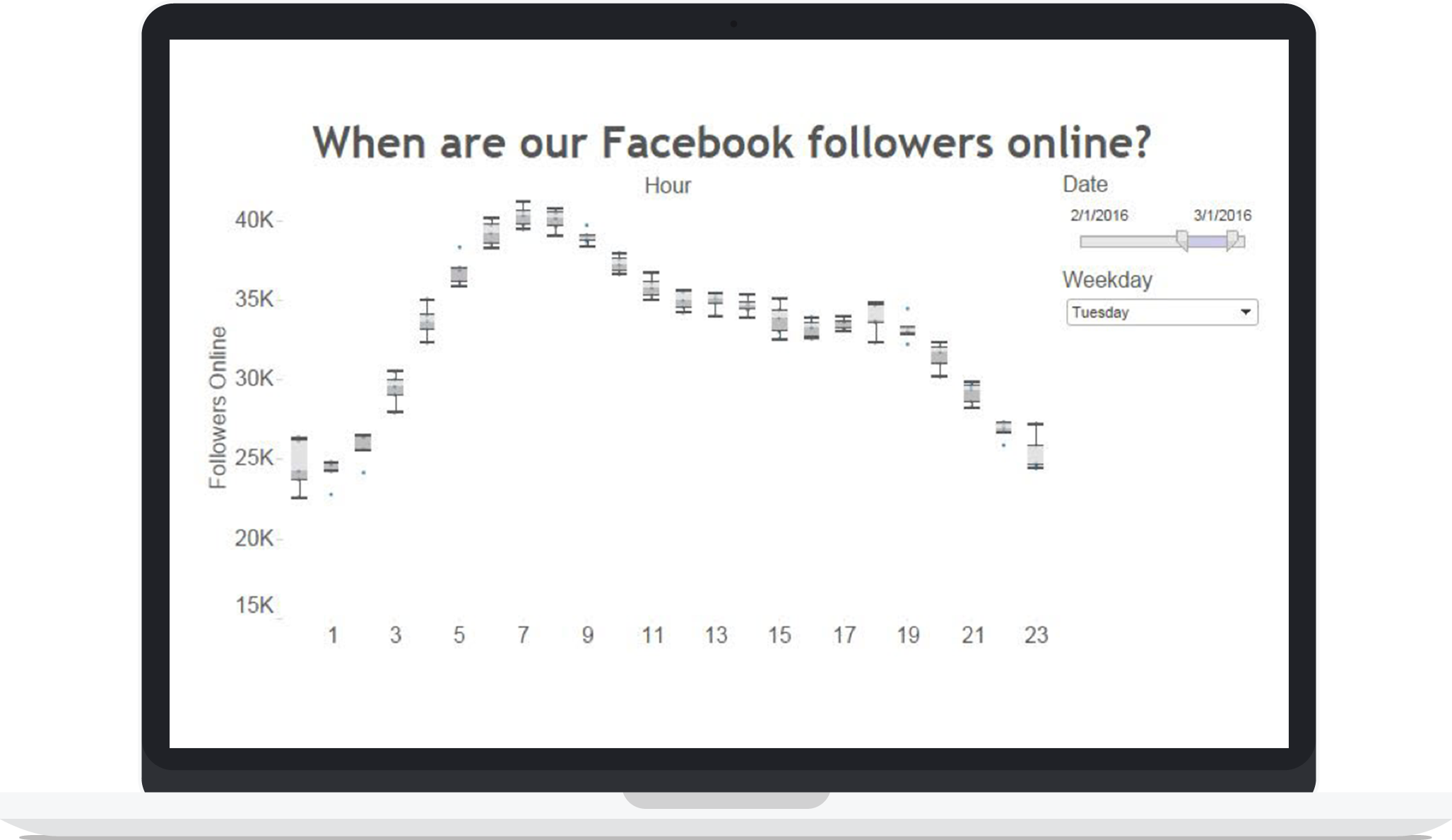 With data available from Facebook Insights, we can see when our followers are most active. We can drill into this data flexibly, making more informed decisions about when to post content.
How are people engaging?
When you – or your employees – post a piece of content, what type of action are you hoping to see? Likes? Website referrals? Or are you hoping that the content gets re-shared? All of these are valid goals, and you may have all three. What's important is that you're understanding what actually happens when you post a piece of content.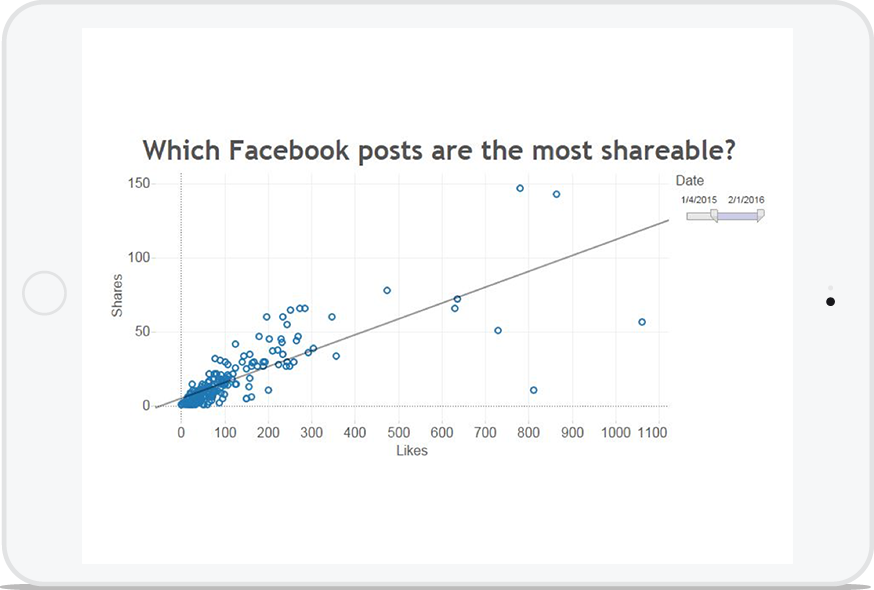 One of our top goals is to increase the organic reach of our posts. But it's a lot easier to get likes than it is to get re-shares of your content. We like to compare these two metrics so we can see which posts drive more shares per like.
Engagement metrics are simple to find in every social platform. By questioning them more deeply – rather than simply counting the number of likes (or un-likes) you get from each post – you start to see the "why" behind each engagement. Ultimately, this helps you understand your social community in a robust and nuanced way. Engagement metrics are a simple ticket to understanding some of the most complex interactions that happen on social media.
Employee Engagement Gets Easier with Data
By now, I'm sure it's clear that I believe in taking an iterative approach. Our team is far from building a "complete" solution for our social media data, but we've been getting powerful insights from it for years. These insights have driven immediate results in the form of better content and more insightful community engagement.
In other words, we decided to "just start somewhere" and then we kept adding gradual improvements. And somewhere along the way, we started including our employees as a vital component of our social media strategy. We started using EveryoneSocial.
Here at Tableau, we use EveryoneSocial to share content and engage employees in social media.
The good news is that the underlying strategy we took for our general content also applied easily to our employee engagement. So there was no need to reinvent the wheel. We were able to ask the same questions about our internal community as we did with our external community.
What content engages our employees? Where, and how, are they finding other content? When should we engage them with recommended content?
When we started considering our employees as a vital part of our social media community, it was easy to incorporate data into our strategy. We rank the most shared pieces of content. We analyze the days when people are sharing the most. We ask the "why" behind what employees are doing on the EveryoneSocial platform.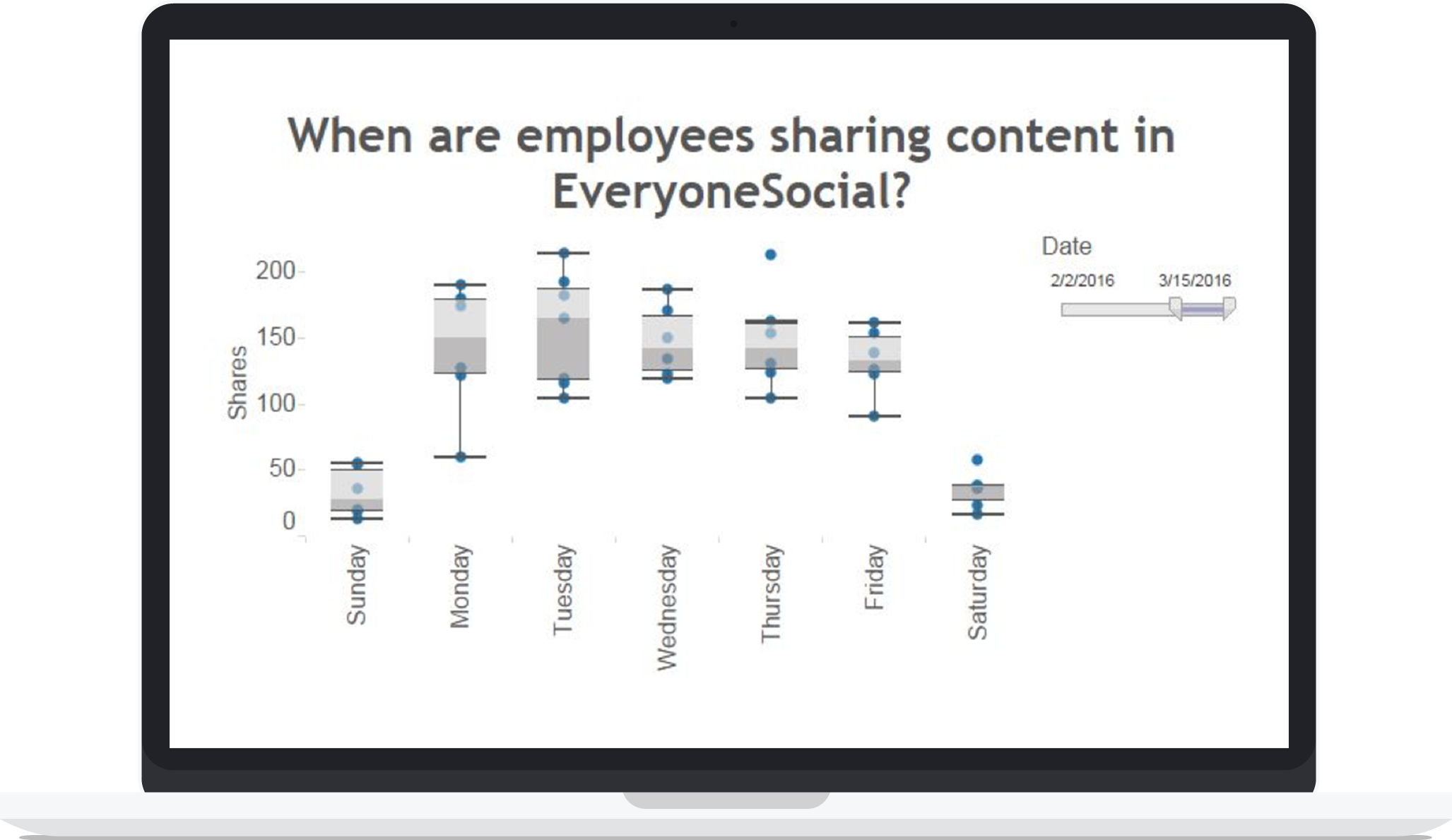 Our team looks at the days of the week when employees are more likely to share on social media. Since we send a weekly reminder email from EveryoneSocial, this has helped us optimize the timing of that email.
Not only does our social media team use data to drive our EveryoneSocial strategy – we also expose that data to our employees. Employees can look up the most popular content shared by their colleagues and use this data to inform their own social strategy.
The underlying strategy is always the same: Dive into the data – today, and not a moment later. Keep building. And always ask "why." By approaching your social data with a human perspective, you can do more than drive clicks and likes. You can foster meaningful conversations between your brand, your employees, and your external community.