In Steve Jobs' imfamous Stanford commencement speech, he bestowed upon the world a handful of indelible stories; stories that will survive long after the last iPhone has been shipped. One piece of advice from that speech that has resonated with people across the globe is this:
"You can't connect the dots looking forward; you can only connect them looking backwards. So you have to trust that the dots will somehow connect in your future."
This advice rings true for everyone, but it seems to encompass the professional background of our new Head of Marketing, Elle Griffin, particularly well.
Griffin graduated from Texas Christian University with a degree in Fashion Merchandising. She then went on to work for well known retailers American Eagle and William Sonoma. Looking forward, it would have been hard to image the dots connecting her fashion background with a senior role at B2B software company. But that's the beauty of Jobs' words. You can only connect the dots looking back.
Griffin brings a unique perspective to EveryoneSocial's marketing mix. To better introduce our new marketing head, we thought it would be best to let you hear from her directly. Here's a brief interview we did with Griffin, which sheds light on who she is and how she'll approach EveryoneSocial's marketing.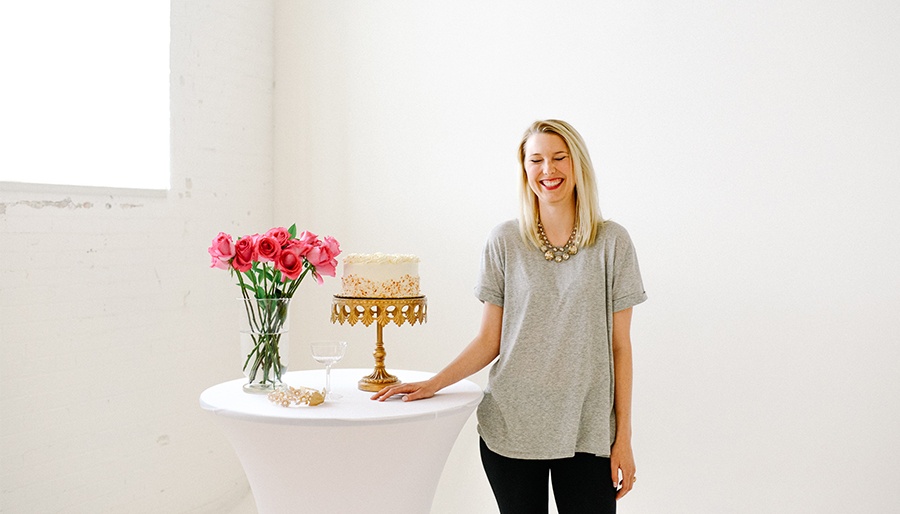 ES:
Tell us a little bit more about your background, as a marketer, and what ultimately led you to EveryoneSocial?
Griffin: I got my degree in fashion merchandising and worked at American Eagle and then at Williams Sonoma as a buyer. What I really love is that whatever you're putting on yourself, or whatever you're putting in your home, that portrays how people think about you. It's how they relate to you and whether or not they want to be friends with you, and whether or not they find you interesting. That's what really drew me into marketing. This marketing of the self.
After Williams Sonoma I launched into the tech world and found there was a similar opportunity to take something that was, maybe not as sexy as clothing, but could be just as much a part of our lifestyles if we let it.
That's what Apple has done and it's why Angela Ahrendts has been one of my greatest role models. She spent three decades working in fashion and was the CEO of Burberry before Apple brought her into their retail group. Just like Steve Jobs before her, she took that same sense of self that is such a vital part of the fashion industry and brought it to technology. I look at my desk, and alongside my pink Kate Spade bag there is a beautiful rose gold MacBook. What once felt like a abhorred necessity, has since become an adored accessory.
And that, to me, is what's exciting about being in tech marketing today. And especially to be working for EveryoneSocial.
ES:
What are some of the similarities that you see between B2B and tech marketing
and fashion; that only you would see, having experience in these two worlds?
Griffin: I think it's less about what tech marketing and fashion have in common, and more about how they are compatible. For example, I'm an avid blog reader. I follow thousands of blogs and read them through my feed reader each and every morning.
I follow lifestyle blogs, fashion blogs, health & fitness blogs. I follow food blogs, and makeup and beauty blogs. I follow interior design blogs and even religious blogs. And then yes, I follow business blogs and tech blogs and social media blogs.
But I think there is this misconception that there is our personal lives and then there is our professional lives. And that those two parts of ourselves are completely separate. But like all of the blogs I follow, I am not just one topic. Or just one "brand." I am multifaceted and all of those things are relevant to me. All of the blogs I follow are part of the idea that "this is the life I want to live."
And that includes both fashion and technology.
Fashion & technology are not two separate things. They are two parts of our lives. They have the same power to say "this fashion represents who I am" or "this technology represents who I am." Because whether we are at work or at home, carrying a Kate Spade bag or a laptop, that says something about who we are. And promotes the same sense of self that I think is so key to marketing. Whether it's marketing fashion, or B2B technology.
ES:
In your opinion, what are some ways that the industry can make this connection even stronger?
Griffin: For B2B, it's really about making the product appealing to the employee.Being an employee of a company is a big part of our workday. It's why there are so many blogs out there today about how to follow your dream, or make your passion your career.
Everybody is really interested in making their career a very fun passionate part of their lives. As opposed to a dormant way that we spend 40 hours a week, and then we come home and live the passionate part of our lives outside of work.
For me, that's the benefit of marketing to a B2B company. We can change that and we can say, "Hey, we're going to be a product that is important not just to the company we're selling to but to the employee that's going to use it, who can make it part of their normal everyday lives."
They can expand their identity from being an employee at a company to being a thought leader within their industry. They can become a mover and a shaker; posting inspiring pictures to their Instagram accounts or Snapchatting integral parts of a conference they attended. Maybe they use Twitter as a launching platform for their career, helping them to become well recognized in their industry and eventually leading to writing gigs at the Wall Street Journal or Forbes Magazine.
That's how we can take the idea of a personal brand one step further. And use it for the benefit of both our personal and our professional lives.
ES:
Are there any interesting passion projects that you've been working on in social media?    
Griffin: One of my personal passion projects is called Over The Moon. It stems from a really very obscure interest I have in the Virgin Mary. When people hear that I study her in graduate school, they think, "That is so old school, religion is on the outs, why would anyone be studying this?"
But, for the same reason that I'm interested in tech, and the same reason I'm interested in fashion; I'm interested in rebranding Mary, and religion, for a new generation. So I started an Instagram account called @overthemoonmag, and it actually launched on August 1st. We've been doing a series of photo shoots where we take on very old school religious symbolism, and we recreate them using modern-day photography.
That's what I find so exciting about social. It's not just an Instagram account, it's a platform we can use to change people's minds about something. To take something like religion, that is perhaps boring and dull, and reinvent it in a way that is relevant to our lives. Just like Apple did with the macbook and the iphone.
That to me is what's so exciting about social, and about marketing in general right now. That it's this way to blur the lines between our personal lives and our professional lives. Our careers and our hobbies. To come up with something that adds to this total picture of who we are.
We are so excited to welcome Elle to our team. Follow Elle on Twitter or LinkedIn to stay in touch!